Sand: A Superfluous Game
Boomerang:
You get two of them.
Designing them was fun!
Takes a little bit of a learning curve to use them but they now might be my favorite weapon to use
Low damage (2)
They will be adjusted later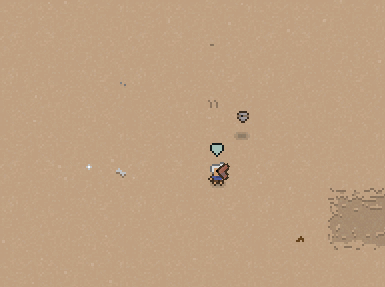 Bug Fixes:
NPCs should now eat and stand around and die. (Hopefully)
Get Sand: A Superfluous Game
Comments
Log in with itch.io to leave a comment.
How can I get in contact with you?
Here mainly. I come here a few times a day. I can't during the day recently because my work blocked the site and my cellphone has no service. I have an email, but i don't check that very often :)
I have an idea for anticheat although it may be too big to put into here.
Epic,

One small bug I have:
Once completing the first raider base mission to acquire the satellite,
The second one doesn't show up on map despite it being said to.
Unless it's not "near" like statement in message said then I'm inclined to believe it is not existent.

Keep up the great work! Love the game.
oh that is the end of that mission line (for now). I just forgot to change the message :) I'll fix that for next patch