Sand: A Superfluous Game
Dog Update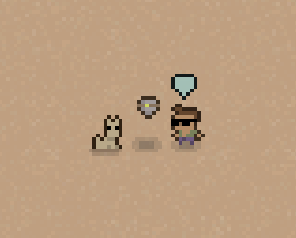 You now have a dog that will follow you. In future updates there will be objects that you can use to interact with him/her. There will also be a dog house in which you can change the color and the 'style' of dog. He will also bark at the closes enemy to you and slow it down for a second. The dog is not targeted by enemies. He/she is not dismiss-able at this point.

Other
Added 4 new enemy types (you can only find one though)

Crab - Fast and weak (found in the roach zone right outside of the base)
Bat - in caves
Spider - in caves, melee, LOTS of health
Red Spider - Shoots webs that slow you down

Camp guards will target enemies first (instead of sprung traps and empty turrets)
Changed up graphics some
As always this build is completely without bugs and the dog will totally not clip through walls or turn into a cat or anything.
Get Sand: A Superfluous Game