Sand: A Superfluous Game
Trading System Revamp - Alpha 0.1.6
---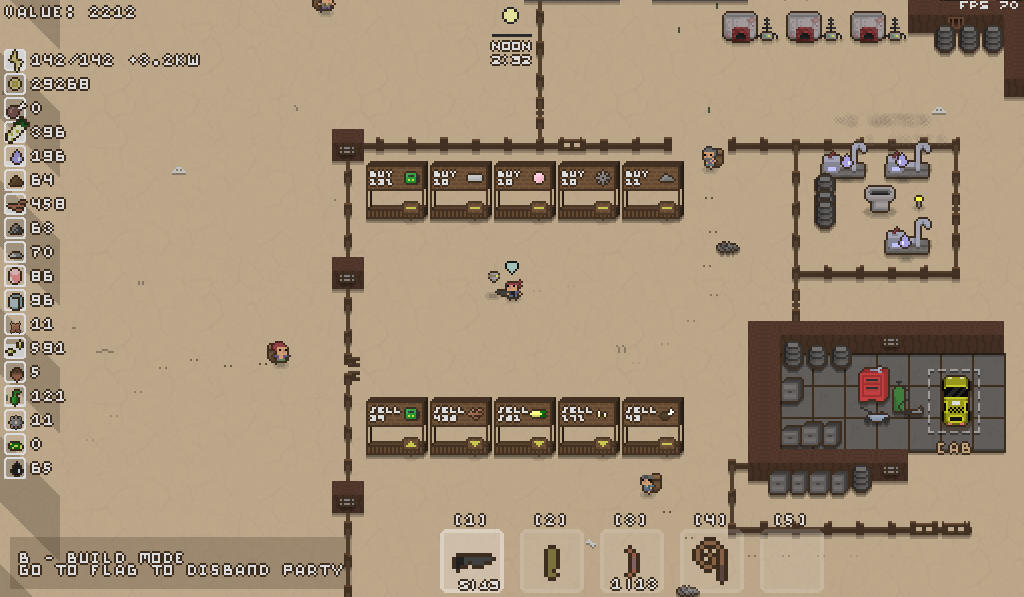 Project update: Move to Alpha 0.1.6
Changes to trade system:
ALL YOUR MERCHANT BOOTHS WILL BE DELETED ON THIS BUILD
You now build booths to sell or buy goods.
You can also set the price to high/med/low.
Traders will come and buy/sell depending on the price and their wants/stock.

The amount of traders is directly related to your town value.

Right now traders have a %10 chance to buy high priced good, a %80 chance to but med priced goods, and a %100 chance to buy low priced ones.

In the future this can be improved by improving your karma level.

Theoretically you should be able to make money by buying low and selling high.

Look at the picture above I am buying electronics at medium price and selling them high

Remember the base price to sell is always lower than the buy price.
I like this method better then having merchants come to a booth and leave at night. This seems more organic and makes things feel more alive.
Changes since 0.1.5
Robots
Automation
Energy System
Performance increase
Carpets
Art updates on a few things (farms)
Files
Sand Alpha 0.1.6.zip
9 MB
Oct 16, 2018
Get Sand: A Superfluous Game